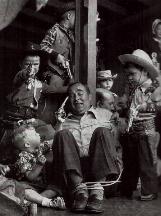 Dads are notoriously difficult to buy for – which is why many of them end up with vast collections of novelty socks and soap-on-a-ropes. here are five great ideas to make 18 June really special.
1. Dad wants… England to win the World Cup
OK, so you can't fix it for England to win the World Cup – but you can indulge Dad's passion for footie by buying him an unusual gift. If he's really into his club, chances are he's already got the team shirt. However, you could get him a personalised history of his favourite team . The hardback book contains all the key newspaper reports from the past 100 years about a selected team – and has a gold embossed dedication on the front.
2. Dad wants… the perfect garden
If Dad's a keen gardener, seeds or plants are a brilliant idea for Father's Day. Most big garden centres and nurseries have their own websites, so you can browse them for ideas before you buy. Alternatively, if your dad enjoys woodland walks or is a keen conservationist, you could get a tree planted on his behalf.
Originally posted on June 7, 2006 @ 5:51 am