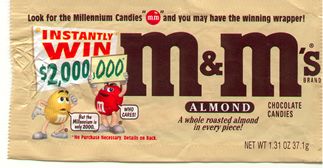 When I was five or six years old, my best friend Jenna's little sister was being potty trained. In their upstairs bathroom they kept a small bowl full of M&Ms so that when Betsy used the potty she would be rewarded with one. I remember one day I couldn't resist the M&Ms anymore. While in the bathroom under the guise of actually needing to use the facilities, I ate all but maybe three of the M&Ms in that bowl. I felt guilty, but man, they tasted so good. I was only a little kid, but I never forgot how enticing those M&Ms looked perched on the sink cabinet. So, 25 or so years later as I'm trying to interest my own daughter in potty training again, I thought of those M&Ms.
Caught stalled in the zone of potty training, I needed a brilliant new plan to ignite interest in my two-and-a-half-year old, Molly. Let me tell you, I thought of one! I believe it's the perfect, no-fail, two-part, potty-training plan.
So, we headed to the store and bought the two major components in the plan: M&Ms and a package of princess pull-ups.
The ingredients to this potent mixture of potty training mania are perfect for Molly. She knows what the wonderful little M&M candies taste like from her infrequent opportunities to have them (mostly around holidays or birthday parties) and LOVES them. She is even more excited about the prospect of eating them possibly several times a day! Then there's the Princess Pull-Ups. That's right, on the market they have pull-up diapers (meant to be more like training pants than actual diapers) that have princesses and hearts and flowers all over them. They are beautiful. In essence, they are a little girl's dream of what the best underpants in the world should look like.
Like I said, this is a brilliant potty training plan.
We've set up "the plan" as follows: We keep a little baggie of M&Ms in the bathroom and Molly gets to eat one (her choice of color, of course) every time she uses the bathroom. If she is able to go No. 2 in her potty seat, she gets two, that's right, two M&Ms. In addition, she gets to wear her beautiful princess pull-ups, or as we call them her "big-girl-princess-pants" all day long. What a great deal!
So, we've got the potty seat, the books, the extra princess pull-ups and the M&Ms all set up in the bathroom. We've hatched our plan to Molly who is excited and eager. All is well. I know we are in the very early stages, but I'm pretty confident that this is going to be a brilliant, no-fail potty training technique. We've tailored the incentives to Molly and think that they will work. Of course princess pull-ups and candy wouldn't work for every child, but I think we've got a good shot. We'll see.
I must admit, sometimes when I'm in the bathroom I steal a couple M&Ms for myself. I can't help it. They just look so good sitting there, but really, isn't that the point?