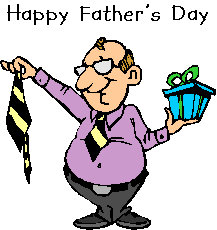 Fathers hold a special place in a child's life. Some Fathers are involved with sports teams, outdoor games, and having lots of fun. While other Dads enjoy helping children learn new skills. It could be anything from baking to building bird houses. It really doesn't matter how Dads spend time with their children, as long as they do spend time together. Father's Day is a time to remember just how special is your Dad.
There are many stories how the custom of honoring Dads on a Sunday in June got started. The most popular story about the origins of Father's Day is said to have started growing its roots in the year of 1909. Mrs. John B. Dodds, from Spokane, Washington, campaigned for a Father's Day celebration. The idea came to her while she listed to a church sermon on the virtues of Mother's Day.
Mrs. Dodds thought about her own childhood, raised in a family of six children by a single father after the death of her mother. Mrs. Dodds thought of her father, who acted as both father and mother, and nurtured and cared for her and her siblings. There were many other fathers who selflessly gave of themselves to help take care of their own children, as well as provide for them financially too.
She wanted all fathers to be honored with a special day all their own. She campaigned and worked to spread her message, and even got the help of friends and family to write letters to influential people who could make this dream happen for her.
After much hard work, Father's Day was first celebrated in 1910. Mrs. Dodds wanted the date of the holiday to be on her father's birthday, which was the fifth of June. But the events had to be moved to the nineteenth of June so there would be enough time to prepare.
Over time, annual celebrations were held throughout the United States and Canada. In 1972 Richard M. Nixon signed a congressional resolution creating Father's Day in the United States.
Today, this special day provides the opportunity to honor fathers, stepfathers, uncles, grandfathers, guys that act as big brothers, and any other men that have played the father role model your life.
Originally posted on June 13, 2006 @ 5:36 pm