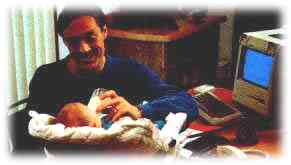 Good old-fashioned family values may not be dead. They've just got a new gender twist. According to an online poll of 731 parents by one of the largest parenting sites on the Web, and AOL, half of the moms and dads quizzed said they think women should stay at home with their kids and not work if money isn't an issue. But a surprising 22 percent said that Dad could stay with the kids instead of Mom, especially if Mom earns a bigger paycheck. The idea that Mom (or Dad) could work for personal fulfillment, instead of financial need, was given the thumbs down by many parents.
Bonding
One benefit many talk about was the special bonding that takes place between parent and children when they are able to stay home.
Development
Many stay-at-home parents felt that, by staying home with their children, their kids were benefiting by developing faster.
Mr. Mom is Still Scarce
According to a 2002 report by the U.S. Census Bureau, "stay-at-home" dads numbered only 189,000 compared to 11 million "stay-at-home moms" for the 41 million children under 15 living with two parents. Obviously, full-time parenting is still predominantly female territory. However, it is important to note that about 3-in-10 children under 18 living with one parent, lives with a single father. There is still obviously a huge difference in who plays the predominant care-taker.
Originally posted on May 30, 2006 @ 10:34 pm